Experience is a conditional designation of achievements of a player or creature. You gain experience by doing some actions (kill enemies, complete quests etc.)

Player's experience is used for:
completing stages on a higher difficulty
Creature's experience is used for: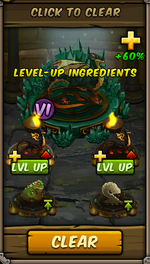 You can get experience (for both: player and creatures) by completing stages on a main map, by completing trials or raids (Elder's Shrine). Use fuse to get experience for your creatures.
Important note! When you reach new rank - your food and rage is replenished.
Ad blocker interference detected!
Wikia is a free-to-use site that makes money from advertising. We have a modified experience for viewers using ad blockers

Wikia is not accessible if you've made further modifications. Remove the custom ad blocker rule(s) and the page will load as expected.