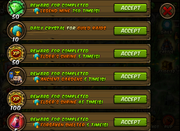 Rewards tab located on the left side of the main game screen under the
Quests
tab. The rewards tab contains certain resources and prizes you'll get throughout the game.
The rewards are stored until you claim them, but if you stack too many rewards, some of them may not be visible. There are 5 type of rewards. Only 20 of the same type are visible at the moment. So you should claim some of them for others to become visible.
The Rewards are sorted in the following order:
Ad blocker interference detected!
Wikia is a free-to-use site that makes money from advertising. We have a modified experience for viewers using ad blockers

Wikia is not accessible if you've made further modifications. Remove the custom ad blocker rule(s) and the page will load as expected.